Escape From The Ordinary *2 Spots Left*
Shae Sterrett
February 25 - March 4, 2018
Join Shae Sterrett for 7 nights and 8 days at the magical world of Vida Asana, nestled in a quintessential corner of the jungles of Costa Rica, yet just minutes from everything that this jungle paradise has to offer – beautiful beaches, amazing hiking, rainforests, waterfalls, wildlife, shopping and more.
Escape from the ordinary and experience a vacation like you've never had before – once your feet hit the sand in San Jose, let me take care of the rest.  Unwind with a refreshing coconut water drink, and stop at the famous Tarcoles Crocodile Bridge, as you venture toward the jungle paradise of Vida Asana.
When you arrive, you'll be set up in a blissful jungle retreat with a private pool, jungle shala, with gift shop, bikes, and walking distance to the beach. Rooms have private bath, refrigerator and air conditioner, comfortable beds and bedding, for the ultimate in casual comfort.  Enjoy some of the most amazing food you may have ever had (we can accommodate special dietary preferences just ask), Sangria night (non alcoholic also available).
During this time we'll take part in activities that will help us unplug, rest, relax and rejuvenate our mind, body and spirit.
Explore your body through a daily yoga practice in our private jungle shala – always available and modified for new or experienced yogi's. Not required to attend of course, this is your retreat.
Daily outdoor guided chakra meditation in our shala, beachfront, or other remarkable outdoor destination
Discover the fascinating landscape of Costa Rica with a private group jungle excursion, daily hikes, waterfall exploration
Daily visits (and at least one yoga and meditation experience) on one of the most beautiful beaches in the world – Playa Hermosa
Experience a Shaman Hot House you will never forget with a local favorite
Give back to mother earth with a group tree planting to help reforest the beaches of Playa Hermosa
Take part in daily activities to flourish our minds creativity with art, music, dance, pottery, readings, poetry and writing – anything else you want to do, to let your creativity sore
Group Sangria Night (non alcoholic also available)
Fun Costa Rica send off with a private musical performance Saturday night.
Cost Is And Includes:
$1,450 (double occupancy)
$1650 (single occupancy)
All room and board for all 7 nights, and 8 days
3 Delicious meals a day (dietary preferences can be accommodated)
One private group Jungle / Waterfall excursion
Airport transfer to/from SJO
Concierge event planning (zip lining, paddleboarding, massage, acupuncture, etc available at or near Vida Asana, excursions are available for an additional charge)
Group Shaman Hot House Experience
Daily yoga and meditation
Private Music performance Saturday night
Mudmask night (see if you can win a free stay at Visa Asana
$100 to reserve your spot, payment plans negotiated as needed for every client.
Sign up before June 1st and get a Free Massage.
Bring a friend and save/
Take advantage of our early bird special discounts!
Contact Shae for more information and to register shae@shaestudios.com.
Spots are limited.
Teacher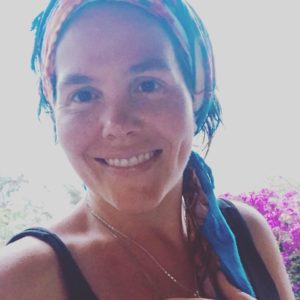 Shae Sterrett
500-HR RYT I PRYT – Level 1  Shae came to yoga about 8 years ago seeing it as a fitness routine I could work into my healthy lifestyle training for triathlons, running, biking and general fitness. It has now become the cornerstone of my life. During the day I run a small consulting business under the name Shae Studios, LLC (shaestudios.com), but my passion is yoga and using it as a transformational tool for personal growth, empowerment and contentment.  I am a 500-hr RYT and have studied throughout the US, Guatemala, and India.  I am on the path to becoming…
Learn more about Shae Sterrett