The Uniqueness of You Yoga Retreat
Jenny Cribbs and Fran Brynford-Jones
March 17 - 24, 2019
The Uniqueness of You Yoga Retreat
Imagine it!  Waking up with the sun and practicing yoga in the open-air jungle yoga shala. Allowing nature's symphony and natural beauty to create the perfect backdrop to your yoga practice.
Whether you're interested in yoga, pampering yourself, meditation  or all three, the offerings and flexibility of this retreat will allow you to create a transformative, intimate, and customized experience that is unique to you.
The Uniqueness of You
Come for a deeply relaxing experience. Allow yourself to open with slow flow, vinyasa and Yin Yoga, while your whole being responds to the healing power of Tibetan Singing Bowls.
During the retreat you will be treated to a full spectrum of sound, bathing your body and mind, from the deeply resonant and clearing drum to activating Tibetan Singing Bowls and purifying mantras. Sound is a powerful medium that can help clear blockages, release stagnant energy and balance your system for greater health and vitality.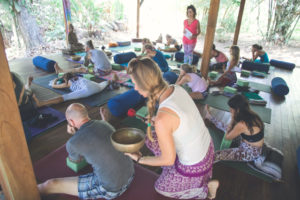 What to Expect from a Mariposa Retreat
From the moment you arrive, until the minute you leave, you will be part of the community here.  During our time together we will eat fresh local gourmet Costa Rican cuisine with an abundance of flavor.  We will explore the rain forest and beaches of Costa Rica with activities such as hiking and waterfall tours.
Over the course of the retreat we will have yoga classes, guided meditations, pranayama, sound healing and workshops.
Imagine waking up with the sun and listening to nature's symphony in natural beauty as you practice your yoga in an open air jungle shala.
What Makes This Particular Retreat So Special?
The attention to detail around YOU.
From  the organic Essential Oils we use on your face and body to the nurturing content of our yoga sequencing and meditation practice .
From the inclusion of a uniquely Costa Rican CACAO CEREMONY with the Tibetan Bowls AND  an afternoon in a SWEAT LODGE followed by Sunset Meditation.
This retreat takes YOU to the centre of the experience.
Where YOU become the experience.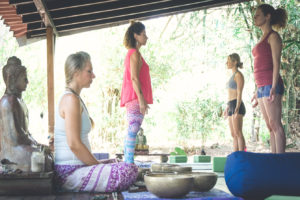 More About the Retreat
ABOUT THE HOTEL
Vida Asana sits on 1.5 acres conveniently located immediately outside Jaco in beautiful Playa Hermosa, Costa Rica. Just 90 minutes from San Jose Airport (SJO). Vida Asana is situated between the lush tropical beauty of the jungle and the world famous surf beaches of Playa Hermosa. This location provides easy access to a variety of activities, excursions, restaurants, and shopping, yet offers a peaceful jungle setting. Come and get lost between the ocean and the jungle and we'll take care of the rest.
ABOUT THE FOOD
Each morning you will awake to fresh brewed Organic Costa Rican coffee and teas.  The food at Vida Asana is created with a healthy lifestyle as the inspiration.   Every meal is made from scratch using whole, and as often as possible, organic ingredients.  Although eggs and yogurt are available at breakfast the food is mostly gluten free and vegan-centric where fish is served every other night at dinner.  Vida Asana is continuing to install more permaculture gardens to increase the onsite organic harvest.  All allergies or dietary needs are easily accommodated.
ACCOMMODATIONS
$2000/per person Double or Triple Occupancy
$2500/per person Single Occupancy
All rooms are equipped with air conditioning, ceiling fans, mini refrigerator, private bathroom and cold & hot water.
Wifi reaches every guest room on the property and all common spaces.
All rooms are stocked with Raw Botanicals organic hair and body care products.
WHAT'S INCLUDED IN YOUR RETREAT PACKAGE:
Eight Day/Seven Nights Accommodations
One Group Shuttle to and from the airport, on the day the retreat starts and ends, in an air-conditioned vehicle
Stop at the famous "Tarcoles Crocodile Bridge" to see the crocodiles
Complementary Fresh Coconut Water, during group shuttle
Welcome Refreshments and Light Snack on Arrival
Three Abundant Organic (whenever possible) Meals per Day
Sangria Night and Live Music *with non-alcoholic option available
Bicycles for Transportation to and from the Beach
A Sacred Cacao Ceremony
Mariposa Retreats Gift Bag
Two Yoga Workshops
Unlimited Filtered Water
Physical Adjustments
Two Yoga Classes Daily
Meditation Practice
Pranayama Practice
Sweat Lodge
Tibetan Singing Bowls
Spacious Open Air Jungle Shala, with Mats, Blocks, Straps and Bolsters
WHAT'S NOT INCLUDED:
Round-trip Airfare from Home
Souvenir Shopping
Personal Phone Calls
Spa Services
Taxis Beyond Provided Transportation
Daily Tours and Activities (with the exception of the Cacao Ceremony and Sweat Lodge)
Personal, medical or trip cancellation insurance
Alcohol (with the exception of Sangria Night)
Tips and Gratuities
BENEFITS:
The ideal place to unwind, slow down that fast pace, and get back in touch with nature
Become more relaxed and refreshed
Release Stress
Become stronger mentally and find inner peace
Align the seven main Chakras
A chance to get away and step aside from all the hustle and bustle of life
Flush yourself of toxins
Peace and quiet for the mind, refreshing energy for the body
The ideal location to enjoy the beauty of your surroundings
Deepening of your practice
Clarity of mind
Drop out of "normal life" for a period
Teachers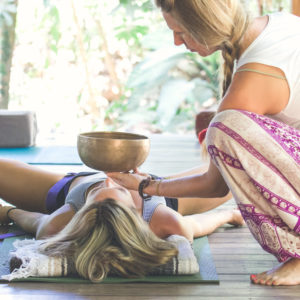 Jenny Cribbs
Singing Bowl Extraordinaire Trained as a Tibetan Singing Bowl Healer, a Vinyasa Yoga Teacher 200 Hr RYT,  Reiki  &  Thai Massage practitioner.   All of this after the age of 40 and spending many years in the business world.  Why, because she found solace for the first time, on her mat, at a yoga retreat.  She quit her high-pressure sales job, sold her house and moved to Costa Rica!    Shortly after moving she crossed yogi paths with Fran and that's where it started.  The combination of  Fran's meticulously thought out yoga classes and the Tibetan Singing Bowls.  The result…
Learn more about Jenny Cribbs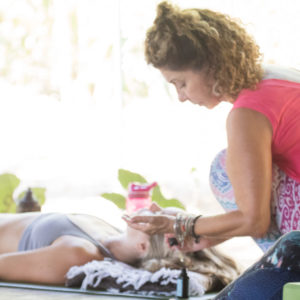 Fran Brynford-Jones
Gentle Yogini Trained as a Slow Yoga teacher 200 Hr RYT and Yin teacher 50 Hr and Yoga Nidra 25 Hr in Sydney.   All this after so many years of practicing yoga it doesn't bear thinking about and after a long career in the events industry in London. But who cares? She is here now, working with Jenny and those ancient Tibetan Bowls and discovering new and wonderful ways in which the practice of YIN YOGA in particular, can bring solace to students in a world which can be somewhat challenging; to help students understand themselves a little better…
Learn more about Fran Brynford-Jones